How to choose virtual data room in Australia?
If you are looking for digital solutions that will allow your company to share data efficiently and securely, you should definitely consider using a virtual data room (VDR). Read on to learn exactly what a VDR is, what kinds of companies are using VDRs in Australia, and which are the best virtual data rooms available.
What is a virtual data room?
A virtual data room is a digital platform where companies can securely store and share data. VDRs include a great variety of document management and security features, such as bulk upload, automatic document naming and indexing, granular user permissions, document encryption, double-factor authentication, and data redaction.
Virtual data rooms differ from physical data rooms in that they function entirely online — the only physical components of a VDR are the servers where the data is stored. Virtual data rooms are also distinct from cloud storage solutions, which are online data sharing platforms, but are not secure.
Here's an overview of the differences between VDRs, physical data rooms, and cloud storage solutions:
| | | | |
| --- | --- | --- | --- |
| | Cloud storage | Physical data rooms | Virtual data rooms |
| Features | Limited uploading and sharing features | No features | Comprehensive document management, user permissions, analytics and security features |
| Accessibility | Easily accessible: data is stored online and can be accessed from any device | Hard to access: data is stored in a physical location and cannot be accessed online | Easily accessible: data is stored online and can be accessed from authorized devices |
| Ease of use | Harder to use: users are required to create an account to log in, and platform features are limited | Hard to use: users have to go to a specific location to inspect the data | Easy to use: users don't need an account to log in, and features are comprehensive |
| Security | Low security: anyone in possession of user login details can log in from any device, and stored data is not encrypted | High security: rooms are constantly monitored and access is restricted | High security: secure servers, encrypted data, granular user permissions |
Do Australian companies use virtual data rooms?
According to the software reviews website Capterra, virtual data rooms are used by Australian companies across a broad range of industries. These include:
information technology and telecommunications
financial services, investment, and banking
higher education, education management, and e-learning
mining and metals, oil and gas
aviation and aerospace
real estate and construction
biotechnology
publishing, marketing and advertising, media production
government administration and NGOs
accounting
Among industry professionals that use the services of virtual data room providers in Australia are:
CEOs
corporate advisors
analysts
directors
finance advisors
managers
consultants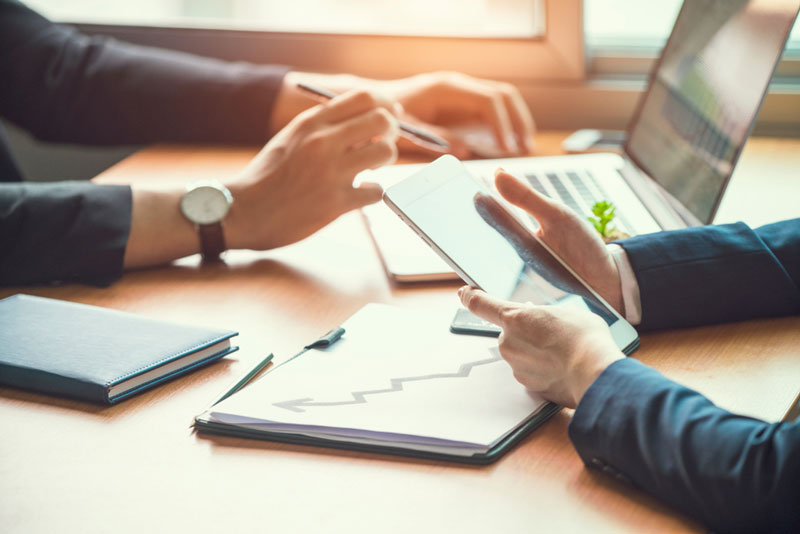 How do I choose the best virtual data room for an Australian company?
If you are in charge of choosing the best virtual data room provider for your company, this is a good way to go about it:
Determine what is the company's budget for a secure data room. Keep in mind that using virtual data room software means you will no longer spend money on printing and forwarding documents, and that saved money can be used to pay for the VDR.
Assess your company's needs in detail. How many documents do you need to share? How many users will need access to them? Does your company have industry-specific security requirements? Will the users need training from the online data room providers?
Find out what your VDR options are. Not all VDRs are available everywhere, so research what virtual data room services are available in Australia.
Examine virtual data room reviews to get information on what are the best data room providers available to you.
Compare pricing plans and find which suits your company's needs best. Keep your eyes open for hidden costs, like charges for extra document uploads and extra users' access.
Check which among the data room providers in Australia offer free trials, as it's a good idea to sign up for a few of them and compare how they work for you.
Go back to the list of features your company needs in a secure virtual data room, and draw a comparison table. Which of your favourite VDR softwares offers all the features you need?
Virtual data room comparison
As an example of a virtual data room comparison table, here's a comparison of the top ten electronic data rooms in Australia regarding seven key features:
| | | | | | | | | | | |
| --- | --- | --- | --- | --- | --- | --- | --- | --- | --- | --- |
| Features | iDeals | Ansarada | Onehub | DataSite | Intralinks | Securedocs | Box | Smartroom | DFIN | Sterling |
| Automatic document indexing | √ | ? | ? | √ | ? | ? | ? | ? | ? | ? |
| Full text search | √ | ? | √ | √ | √ | √ | ? | √ | ? | ? |
| Remote shred | √ | √ | ? | ? | ? | ? | ? | ? | ? | ? |
| Granular user permissions | √ | √ | ? | √ | √ | √ | √ | √ | √ | √ |
| User activity tracking and reports | √ | √ | ? | √ | √ | √ | √ | √ | √ | √ |
| Q&A | √ | √ | ? | √ | √ | √ | ? | √ | ? | ? |
| Interface customization | √ | ? | √ | ? | ? | ? | ? | ? | √ | ? |